Tag: threesome
by Jonathan on Aug.10, 2010, under Life
Hello horny bastards it's Jonathan Agassi 🙂
Guess what?
I bought a MAC finally! Oh my god!!! This is what everybody's been talking about?? Fucking amazing!
This week I decided to take everything a bit easier. So no hardcore parties ): and no hardcore sex ):
TAKING IT EASY!
Yeah right!! hehe
My pig visited me from France (remember him? the one from my blog 2 weeks ago). This time we brought another guy and being a good pig that he is, he gave me "permission" to tell him (and the new guy too) exactly what to do!
I totally felt like a master lol
After POUNDING his ROSE for hours me and the third guy allowed him to cum (we came earlier)… and then we ordered PIZZA!
That was a fun weekend!
On Sunday my ex-computer broke down and didn't really function anymore so I took all my savings and bought myself a brand new Mac! Oops, already said it!
Well that was my week
How was yours??
xoxo
J.
———————————————————–

Leave a Comment
:domination, threesome
more...
by Jonathan on Jul.27, 2010, under Movies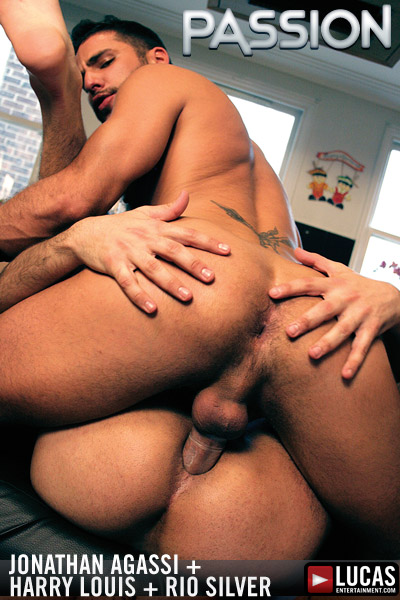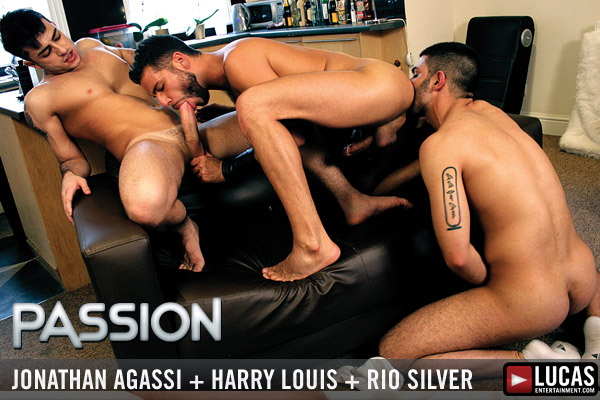 Watch This Scene Now
Buy Passion Now

"Jonathan Agassi and Rio Silver couldn't resist inviting English bombshell Harry Louis back to their new flat, after cruising the King's Cross tube station. Soon the boys are snugly on a leather love seat, indulging in a torrid three-way makeout. Harry and Rio devour every inch of Jonathan Agassi's hairy armpits, chest, face, neck, and torso, before tugging off his shirt and jeans. Jonathan spanks Harry's dick with his tongue while Rio chows down on Jonathan's raging erection. Jonathan fucks Rio doggy style with maximum energy, and Harry jumps on top of Jonathan to fuck him at the same time! Giving and taking at once, Jonathan's new fuck train definitely beats the metro! The boys finish with Jonathan cumming on the side of Rio's head, Rio getting him back in the face, and Harry exploding across Jonathan's torso."

1 Comment
:3way, Harry Louis, Passion, Rio Rilver, Scenes, threesome
more...