Hustlaball London 2010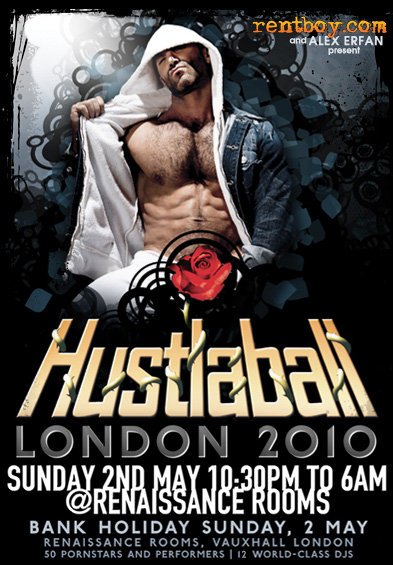 Get ready for another close encounter of the most intimate kind at this unique "sex cabaret" and mega dance party, with some of the biggest names in the porn and dance industry. After 12 years of notorious events in New York City, Berlin, Las Vegas, San Francisco and Los Angeles, Hustlaball will hit U.K. shores in May, injecting London with a heady mix of super decadence and glamor.
The list of participating porn studios is endless, with huge names such as Bel-Ami, Alphamale Media, Eurocreme, Chi Chi LaRue, FlavaWorks, Lucas Entertainment and XXXAmateurHour bringing pornstars over for the party.
With special acts and performers from around the world, we're all in for an unforgettable treat. Superstar names such as Michael Lucas, Junior Stellano, Barrett Long, Rafael Alencar, Logan McCree, Ryan Raz, Jonathan Agassi, Mike Dreyden and many more will be joined by newcomers from the US, Spain, Germany, France and UK to make for a truly international circuit party to top them all. For a complete list of erotic performers, event details and history, see www.hustlaball.com.