Tag: Rio Rilver
by Jonathan on Aug.05, 2010, under Life, Movies
Hey boys (and apparently girls too), Jonathan Agassi here!
What's up?? So I had an amazing week!!!
It all started when one morning, I opened my eyes, logged in to LucasBlog.com and found my FIRST 3some ever caught on cam!!
It's for the new movie PASSION and I love that scene! Watch it here!

It's all about me, Rio Silver (Greek god) and Harry Louis (extra hung Brazilian stud)
This scene was so fun to shoot! Now you have the full scene to watch on LucasEntertainment.com 🙂
Don't tell him I told you, but me and Rio were totally in love for a month after we filmed that scene (he was my April crush) haha. Other than that I finally started to complete my tattoo! It's NOT done yet ): but already it totally looks great, don't u think??
And my ass looks better than ever with it 🙂 hehe
Soon I'm shooting my first movie in my new home: BERLIN! I'm so happy that Michael is coming here to shoot me! I'm planing for it to be my best movie yet! I definitely feel at home in Berlin and I love what the city has given me in sexual terms! It has totally expended my experience/view/mind about sex!
I LOVE BERLIN!
Next month is my birthday and that's the best present ever! Thanks Michael Lucas and all of the Lucas family, my family 🙂
Love ya
C u soon!!
Jonathan
Leave a Comment
:Harry Louis, Passion, Rio Rilver, tattoo
more...
by Jonathan on Jul.27, 2010, under Movies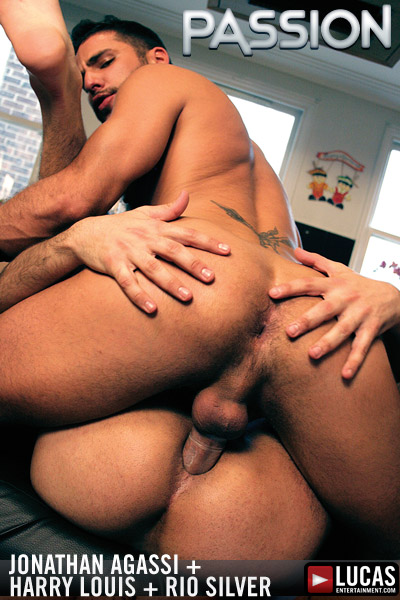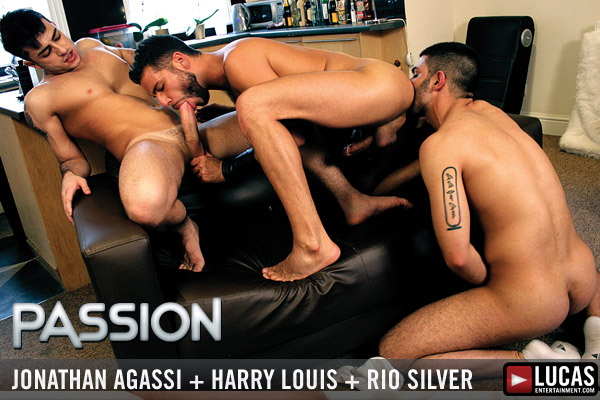 Watch This Scene Now
Buy Passion Now

"Jonathan Agassi and Rio Silver couldn't resist inviting English bombshell Harry Louis back to their new flat, after cruising the King's Cross tube station. Soon the boys are snugly on a leather love seat, indulging in a torrid three-way makeout. Harry and Rio devour every inch of Jonathan Agassi's hairy armpits, chest, face, neck, and torso, before tugging off his shirt and jeans. Jonathan spanks Harry's dick with his tongue while Rio chows down on Jonathan's raging erection. Jonathan fucks Rio doggy style with maximum energy, and Harry jumps on top of Jonathan to fuck him at the same time! Giving and taking at once, Jonathan's new fuck train definitely beats the metro! The boys finish with Jonathan cumming on the side of Rio's head, Rio getting him back in the face, and Harry exploding across Jonathan's torso."

1 Comment
:3way, Harry Louis, Passion, Rio Rilver, Scenes, threesome
more...