Tag: International Studs
by Jonathan on Jun.15, 2010, under Movies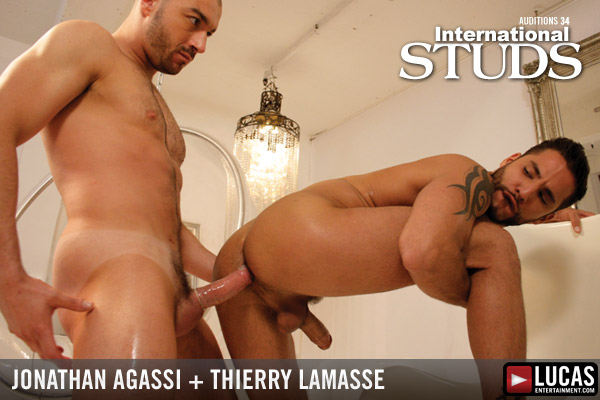 In London, on the set of a new movie, Jonathan Agassi can't wait to strip newbie Thierry Lamasse down to his white Calvins and slurp on his thick French dick. In a space-age baroque living room, Jonathan buries his face into Thierry's crotch with vigor, and Thierry dick slaps the hairy Israeli's hungry mouth. The two swap blowjobs before trading some slavering rimming sessions on each other's spotless holes. Thierry fucks Jonathan so aggressively, every piece of furniture gets put to creative use! Getting his wish from the earlier interview, Jonathan flips Thierry into a chair and pounds him back. In perfect symmetry, the two climax taking turns into each other's mouths.
But International Studs Now
Watch International Studs Now
1 Comment
:International Studs, Jonathan Agassi, Movies, Scenes, Thierry Lamasse
more...
by Jonathan on Jun.10, 2010, under Life, Movies
Hey boys, It's Jonathan Agassi and I'm here today with some breaking news!
I'll start with the easy stuff…
I'm sure u remember I felt bad last week so I stayed in Israel for a few more days…well…from a few days it became 2 more weeks! Israel is celebrating PRIDE next weekend and I thought to myself: HOW CAN I MISS IT?!?
So yeah, I'm on the trucks!!! And I'll be performing at 2 major parties. On Friday night "I'm taking no calls coz I'll be dancing" in a huge party at the Oman club and on Saturday morning I'm gonna give it my all at the "BEEF" line. I'm gonna FUCK myself (literally) on the stage! It's gonna be super hot! I'm so exited! I love performing, and my first performance ever was at that club…so that's a nice closer.
Besides that I was bored this week so decided to take some pics so I can share them with my beautiful fans ☺
And besides those two, whoever knows me, knows that my biggest and only fantasy was to get fisted!
I've been trying for a year or so but never really made it. So last weekend I told my self:
JONATHAN, YOU'RE NOT LEAVING ISRAEL UNFISTED!!!!!
FOUR hours later and a bottle of j lube, Crisco, and what ever else was needed your boy did it ☺☺
And I took it all the way!!!!
So good for me… I'm the most satisfied person alive!
Now the next step is to tell my sexy boss that I WANT TO DO A FIST MOVIE!!!!!
(Do u think he will let me???)
You know what else came out this week?? My scene with Thierry Lamasse in International Studs! It was so hot getting rough with that French fuck-pro on the mod/futuristic set!
Buy International Studs Now
Watch International Studs Now
Xoxo
Your boy
j.
1 Comment
:International Studs, israel Pride, Scenes, Thierry Lamasse
more...